Brain Gym
For teachers enquiring about Brain Gym in-house services please contact Lyn on 02 48617443 or email Brainjoggers.
What is Brain Gym?
Brain Gym/Edu-K is a series of quick, fun and energizing activities.
These activities are effective in preparing any learner for specific thinking and coordination skills. These activities are taught in the context of Action Balances for personal goals, so that they become easy, automatic and relevant.
Brain Gym and balances are part of a comprehensive personal development program called Education Kinesiology (Edu-K). Edu-K brings movement and learning together in a wonderful system. Edu-K allows us to challenge any learning block and move forward toward any appropriate goal.
Edu-K is an accredited course for kinesiologists.
A letter to us from a parent:
...There has been significant changes to his ability to read and write. Most of all is the great joy for a parent to see their child enjoy going to school and looking forward to his brain gym exercises.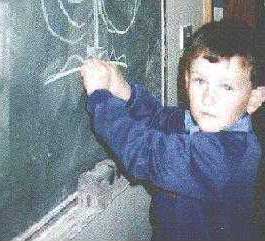 A child draws double doodles as part of his Brain Gym exercises
Drawing Lazy 8s - an exercise in crossing the midline